Cryptocurrency is one of the most exciting investment opportunities of our time.
…it's just a shame it's so complicated.
Or is it?
If you're asking "How do I buy cryptocurrency?", "How do I store cryptocurrency?" or "How do I send cryptocurrency?", this guide is for you.
Here's the simplest way to buy cryptocurrency – in three easy steps
It'll take less than 30 minutes, and you, too, can have Bitcoin, Bitcoin Cash, Litcoin or Ethereum sitting in your wallet ready to go. From these four starter currencies, you can exchange for many, many more.
1
Buy your first cryptocurrency
Sign up to Coinbase – the easiest way to buy cryptocurrency
Using your debit card, credit card or bank account, you can purchase Bitcoin, Litecoin & Ethereum on Coinbase.
Whilst there are other ways of buying cryptocurrency, such as BitBay & LocalBitcoins, Coinbase is the platform we use and recommend.
Why?
It's easy


the most beautiful, easy-to-use interface of any digital asset exchange makes the process simple – and stress-free

It's trusted
around since 2012, used by millions of people worldwide to exchange more than $40bn

It's global


they serve 32 countries, with more in the pipeline



It's insured
they're covered for an amount "greater than the value of digital currency we maintain in online storage"

We'll both get $10 USD worth of BTC when you buy $100 USD or more in cryptocurrency on Coinbase when you sign up with the link above!

Like all digital asset exchanges, Coinbase charge a fee. According to their site, there's a base rate of 4% per transaction.
The signup process – what to expect
It usually takes around 15 minutes – longer if you're in a country with stricter verification requirements.
You'll need to share the following:
your email
a mobile phone
a debit or credit card
proof of identity
Why do I have to verify my ID? Because of money-laundering regulations. It could also be a useful way for the government to connect your identity with your cryptocurrency transactions – tracking your every move. It's for your safety, citizen.
Buy cryptocurrency on Coinbase
If you're buying a cryptocurrency like Bitcoin, you don't need to buy a whole Bitcoin – you can buy tiny fractions – for example 0.037 BTC
Now that you're all signed up to Coinbase,
In Coinbase dashboard, click "Buy/Sell"
Choose the cryptocurrency you want to purchase – Bitcoin is the default
Enter the amount you want to purchase (in Bitcoin) 
Click "Buy Bitcoin Instantly" and "Confirm"

Right away, the Bitcoin you've purchased will be available in your account. You're now part of the crypto world!
2
Set up and secure a wallet
With crypto, you are your own bank. That means you've got to keep your funds secure.
To do this, you'll need to set up a wallet.
What is a wallet?
A wallet is a piece of software you can install which lets you hold and manage your cryptocurrency. Some wallets (multi-coin wallets) let you store multiple cryptocurrencies; others only support one currency.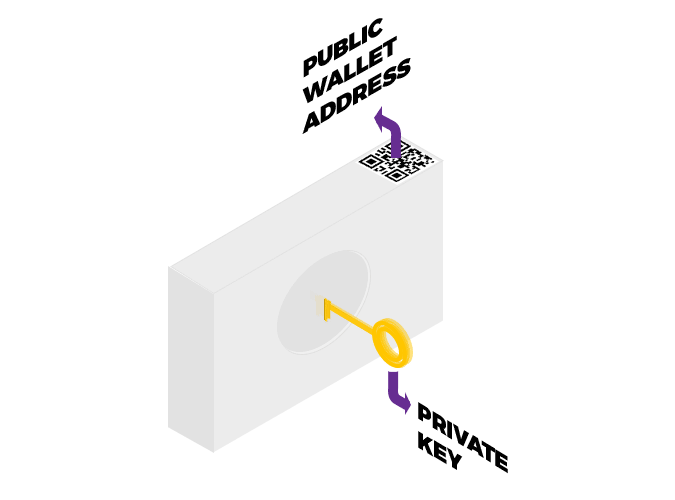 There are two things which make wallets work:
Public Wallet Address
This is a unique address for each wallet. People can send money to this address.
Private Key
Each wallet has its own unique key which controls the wallet.
Don't share your private key(s) with anyone.
Can't I just store my cryptocurrency on Coinbase?
You can, but, with Coinbase, you don't control your private keys, meaning you don't have full control over your money. You're also limited to only Bitcoin, Litcoin & Ethereum – and not the many altcoins.
When you send cryptocurrency, you pay a transaction fee to the network. This fee varies, depending on the currency you're sending.
Download & install a wallet
A good first wallet to try is Jaxx – the most widely available multi-coin wallet. If you're on Android, Coinomi is a great alternative.
You can download Jaxx from the official site:
Why Jaxx?
Quick setup
configuring your Jaxx wallet takes minutes
Keeps your privacy
no identification is needed  
Works on all devices
apps available for Windows, Mac, Android, iOS and Linux. You can sync your wallet between devices. 

Supports multiple cryptocurrencies
Hold and spend Bitcoin, Litecoin, Ethereum and many more

Exchange built-in
The ShapeShift cryptocurrency exchange is built into Jaxx
If you'd like an alternative to Jaxx, try this useful wallet comparison tool.
First time wallet setup
When you run Jaxx for the first time, you'll need to accept the T's & C's and Privacy Policy. Then, select "Create New Wallet".
It'll ask if you want to run the express or custom wallet setup. Select express.
Next, pick which currencies you want to be able to hold. Within Jaxx, each cryptocurrency has its own wallet, each with its own address.
Some of the available currencies within Jaxx
Then, click "Take me to my wallet".
You'll then see your freshly created wallet.
How do I use my wallet?
To send funds:

Get the recipients public wallet address
Set the amount you want to send
Authorise the transaction.
The amount you've sent (and the small transaction fee) will immediately leave your wallet.

To receive funds

Give the sender your public wallet address

The sender then sends funds to your wallet
Your wallet balance will update when the transaction confirms.
Back up your Wallet
Open up the menu – select Tools > Backup Wallet.
You'll be given a set of 12 random words which can be used to recover (or access) your wallet from another device.
Make sure you write down this backup phrase in a few different places.
If you lose your backup phrase, you'll lose your cryptocurrency. Store your 12 word backup phrase securely. We recommend storing it physically in multiple locations.
Secure your wallet with a PIN code
In the menu and select Settings > Setup Security PIN.
Then, Jaxx will ask you to input a four number PIN. Enter it twice to confirm. Make sure you don't forget it!
3
Send your Bitcoin from Coinbase to your wallet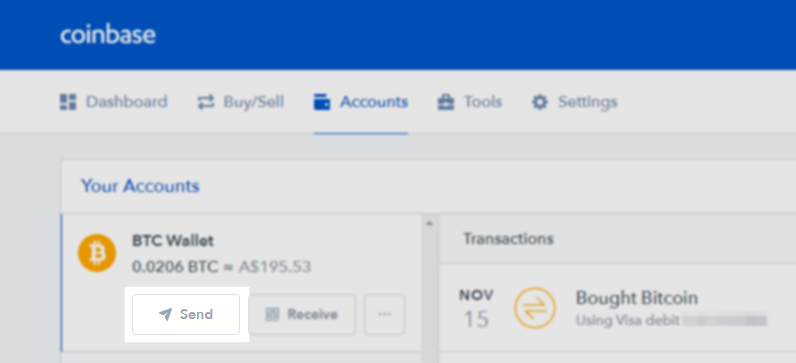 To send your newly bought Bitcoin to your Jaxx wallet, do the following:
Open up your Bitcoin wallet in Jaxx

Copy your Public Wallet Address to your clipboard
double-check it's your Bitcoin (BTC) wallet address you're copying

Switch over to Coinbase and navigate to "Accounts"
Under your BTC Wallet click "Send"
Paste in your Wallet Address
Enter the amount you want to send
or click "Send Max" to send all available funds
Click "Continue" and confirm the transaction
you may need to authorise the transaction via SMS or Two Factor Authentication

Your currency will then be sent to your Jaxx wallet
It may take a few minutes to get to your wallet.
That's it! You now know how to buy Bitcoin and send Bitcoin to your secure wallet!
Have we missed anything? Can this page be more helpful? Let us know by dropping a tweet to @the_fomo_show, or by emailing fomoshow@protonmail.com